▍What is PSE Certification?
PSE (Product Safety ofElectrical Appliance & Material)is a mandatorysystem in Japan. It is called compliance inspection in Japan, which is amandatory market access system for electrical production.PSE certification iscompose of two parts: EMC and product safety and it is also an importantregulation of Japan safety law for electrical products.
▍PSEMarking
PSE certification products are classifiedinto two types: specific electrical appliances and unspecific ones. Specifictype includes 116 kinds of products that must label with rhombic PSE marking.Also, these products must be accredited in accordance with Japan DENAN by thethird party certification and testing bodies which are authorized by Japan METI(Ministry of Economy, Trade and Industry).Manufactures are obligatory to keepthe testing results and evidences and label with rhombic PSE marking on theirproducts.
The unspecific electrical appliances cover340 kinds of products and must label with round PSE marking. Specified thethird party certification and testing bodies are not necessary, butmanufactures are obligatory to keep the testing results and evidences and labelwith round PSE marking on their products.
▍Historyof PSE
A. In 1961, Japan passed DENTORL thatdivided electrical appliances to two types: products for mandatorycertification must label with T-MARK; and products for recommendationcertification must label with S-MARK.
B. Started from 2001 April 1st, DENTORLofficially change to DENAN, new laws will protect the products safety throughnon-government organizations, which is different from negotiable control in oldlaws. T-MARK and S-MARK are no longer in use and instead by rhombic PSE markingand round PSE marking.
C. The beginning of lithium batteryaccreditation.
a)On 2008 November 20th, Ministry of Economy officially instructed that lithiumbattery belong to unspecific electrical products. PSE certification isrestrained to secondary battery cells that their energy density are higher than400WH/L, excluding batteries used in motor car, motorbike, medical facility,industrial equipment and lithium batteries that fastened to devices by soldering or other methods andcan hardly be removed or lithium batteries with special structure .
b) On 2011 November 20th, batteryovercharge protection and electrical appliances free drop testing is mandatoryconducted.
c) Since 2013 July, lithium batteries thatfastened to devices by soldering or other methods and can hardly be removed orlithium batteries with special structure are subject to PSE certification.
▍Certification Standard of lithium batteries
電気用品の技術上の基準を定める省令の解釈(H25.07.01), 別表第九:リチウムイオン蓄電池
Interpretation for METI Ordinance forTechnical Requirements(H25.07.01), Appendix 9,Lithiumion secondary batteries
▍Requirementfor Rhombic PSE marking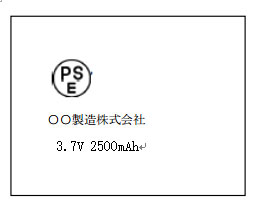 ① Markings for theunspecific electrical appliances
② Accredited name ortrademark or abbreviation
Remark: the above two marks shall close toeach other by principle
③ Ratings (there are rulesfor each electrical appliance)
If the product is constraint in size,simplified PSE logo can be used as follows:
▍MCMadvantages on PSE certification
● MCM possesses whole set of PSE testingand certification equipments containing mandatory internal short circuittesting machine. It enables us to provide different customized testing reportslike JET, TUVRH, and MCM format.
● MCM has a professional team with 11 PSEcertification engineers who are concentrated on the latest information on PSEtesting standard and regulations since lithium batteries subject to PSEcertification .Therefore; we are able to provide comprehensive and correctinformation to customers.
● MCM is able to issue the test reportsboth in English and Japanese language as per the custom needs and we arefinished more than 5,000 PSE testing projects for global clients.